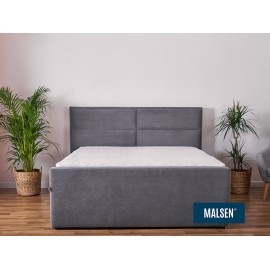 Continental Bed 180x200 Malsen Lars
The elegant continental bed Malsen Lars ensures high sleeping comfort.
Product code:MA-020
Type: Continental bed
Type of mattress: made of T30 foam and Bonell springs
Color: Gray
The total length of the bed: 226 cm
Długość powierzchni spania: 200 cm
The width of the sleeping surface: 140 cm
The height of the large headboard: 114 cm
Sleeping height: 58 cm
The height of the feet: 3 cm
Mattress thickness: 2x16 cm
Type of topper: made of T25 foam
Topper thickness: 5 cm
Type of material: Matt Velvet fabric
Features of the material: elegant, fleshy and thick matt velor with a very high basis weight (430 g / m2 +/- 5%) and quality.
Composition : 100% Polyester
Additional information: the fabric is covered with a special protective layer, creating a hydrophobic layer that protects against rapid seepage of liquids. It has high resistance to abrasion and pilling.
Type of tree: Pine
Bedding containers: Yes, two (18 cm deep), open to the sides
Product made for you, lead time: 14-28 days
Time to return: 30 days
Number of packages: 3 pcs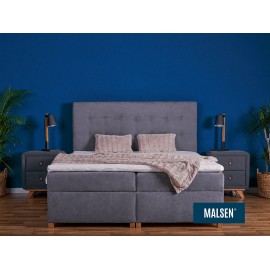 Continental Bed 180x200 Malsen Karl
The Karl continental bed is an offer for lovers of modern furniture inspired by the Nordic style.
Product code:MA-017
Type: Continental bed
Type of mattress: made of T30 foam and Bonell springs
Color: Gray
The total length of the bed: 206 cm
Długość powierzchni spania: 200 cm
The width of the sleeping surface: 180 cm
The height of the large headboard: 121 cm
Sleeping height: 53 cm
The height of the feet: 5 cm
Mattress thickness: 16 cm
Type of topper: made of T25 foam
Type of material: Soro fabric
Composition : 100% Polyester
Additional information: High-quality fabric, resistant to abrasion, easy to clean
Type of bed legs: wooden
Type of tree: Pine
Bedding containers: Yes, two (28 cm deep), open to the sides
Product made for you, lead time: 14-28 days
Time to return: 30 days
Number of packages: 3 pcs